ATTENTION:
Please exit this session and use any browser other than Internet Explorer.
The site is likely to not function properly in Internet Explorer
since Microsoft officially ended support.
Toyota Warning Lights & What They Mean

While traversing the Thomasville roads, you may notice some lights that show up on your dashboard. Toyota dashboard warning lights can mean a variety of different things and can point to issues both minor and severe. Luckily, the service department at Valdosta Toyota has put together a handy guide to help you decipher some of the Toyota car dash symbols, so you know what to do when you see them. Learn all about the different Toyota dashboard symbols with Valdosta Toyota.

Charging System Warning Light
This may be an uncommon Toyota car warning light, but this light indicates a malfunction in your Toyota vehicle's charging system.

ABS Warning Light
This Toyota warning symbol shows that there are issues with the anti-lock braking system (ABS).

Cruise Control Indicator
This is just a Toyota dashboard sign that isn't anything serious like a check engine light. This symbol just indicates that your cruise control is on while you're driving the Tallahassee roads.

Low Engine Oil Pressure Warning Light
The low engine oil pressure comes on when the oil pressure in your engine is too low. When this light comes on, you'll want to schedule a service to get your oil changed.

Low Fuel Level Warning Light
The actual amount will depend on the certain Toyota vehicle, but this light will come on when your vehicle's fuel level is significantly low.

Security Indicator
This signal flashes when the key is removed from your engine and alerts you that the security system is operating. For Toyota vehicles with a Smart Key system, this light will flash after engine start/stop switch has been turned off.

SRS Airbag Indicator
This light will come on if there is a front seat passenger and will let you know that the airbag system is turned on.

Tire Pressure Warning Light
The tire pressure warning light will come on to indicate to you that your vehicle's tires have low air pressure.

TRAC Off Indicator
When you turn off your Toyota vehicle's TRAC system, this light will indicate that the system is indeed turned off.

Turn Signal Indicator
When you're using your turn signals when driving through Albany, this light will automatically turn on to show the turn signals are working.

Vehicle Stability Control (VSC) Off Indicator
When you turn off the VSC system in your Toyota vehicle, this light will come on to indicate the system is off.

Slip Indicator
This light will come on if the TRAC systems indicate the vehicle is in danger of slipping.

Check Engine Light
When this Toyota car indicator symbol shines on your dash, you should take your vehicle in for a service visit, as this could be one of many service issues both minor and severe.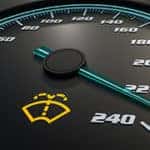 Low Washer Fluid Warning Light
If your washer fluid level is low, this light will show up on your Toyota dashboard.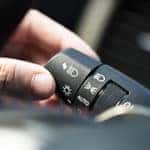 Headlight Indicator
This is an automatic Toyota warning light that comes on when any of your headlights happen to turn on after starting your vehicle.

EPS Warning Light
This Toyota dash indicator light will come on if there is a problem with your electric power steering (EPS) system.

High-Beam Headlight Indicator
This light switches on when you turn on your high-beam headlights or brights.
Check Your Toyota Warning Lights with Valdosta Toyota
If any of the warning lights come on in your Toyota vehicle, visit Valdosta Toyota to quickly diagnose and take care of the problem. Whether you see Toyota Corolla dashboard lights come on or lights in any Toyota model, be sure to contact us to schedule quick and reliable service, so you can get back to cruising Valdosta safely.
More from Valdosta Toyota
If you're interested in a reliable Toyota that provides the power you need to haul large items around Thomasville without a worry, then you'll be impressed by the 2023 Toyota Tacoma towing capacity. The 2023 Toyota Tacoma towing capacity reaches up to 6,800 pounds when properly equipped with the towing package. The new Toyota…

The Toyota Camry is back for the 2023 model year, and it includes the notoriously reliable, and impeccably upgraded performance features, and a hybrid trim level for Valdosta drivers and more. Whether you're interested in saving fuel with the Toyota Camry or upgrading your daily commute, you can find everything you are looking for…

The Toyota Highlander is designed to keep you and your passengers comfortable on every trek around Thomasville. If you're interested in a comfortable and feature-packed crossover, the 2023 Toyota Highlander has everything you could want. So, how much does the Toyota Highlander cost? The 2023 Toyota Highlander price starts at $36,420 MSRP* and comes…